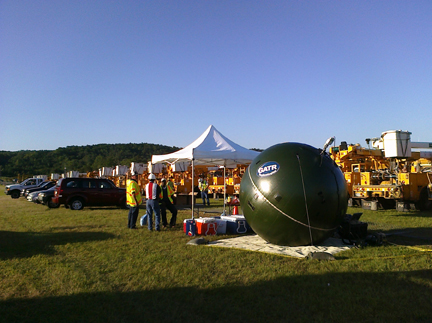 The spate of tornadoes and tropical storms in the United States over the past six months has left millions of people without power, telephone or internet connections, often for more than a week. Unfortunately, devastating wind and rain storms often knock out communications to local emergency responders in hard-hit areas, limiting their ability to respond with needed aid immediately.
Intelsat General often is called upon to provide satellite bandwidth needed to restore communications, as it did following the destructive tornados that roared through northern Alabama in late April. Among the nearly 1 million businesses and residences losing power and terrestrial communications was GATR Technologies of Huntsville, a company that IGC had worked with in responding to the earthquake in Haiti in 2010. GATR manufactures an inflatable satellite terminal that is used in remote environments for first-in and back-up communications, including Internet access, voice-over IP, email, and video teleconferencing.
Immediately after the tornados struck, Roy Priest, GATR Vice President of Sales & Support, contacted Randy Tabor, Director of Global Network Solutions at IGC, about providing bandwidth for the emergency. Tabor worked with Intelsat's teleport in Ellenwood, GA, to set aside capacity on the Horizons 2 satellite for GATR and then caught a plane to Huntsville to assist in getting the network operational on GATR's terminals.
The first task was setting up an antenna at GATR's own Network Operations Center so that technicians could monitor deployed antennas in the field and provide remote IT networking support to GATR users at each site through online chats.
Meanwhile, with emergency and utility crews working round-the-clock to restore power and communications, GATR's response team contacted local sheriffs' offices and emergency management agencies to offer connectivity for critical emergency management operations. These agencies normally relied on T-1 lines and other links to local internet service providers, and many of these had been knocked out by trees downed in the storm and the resulting loss of electrical power to servers.
"None of what we did had been pre-contracted so we did it all on the fly," Priest said about the GATR and IGC response. "These agencies don't have Satcom backup for their terrestrial lines." The GATR antenna looks like an enormous bowling ball when inflated and has a flexible parabolic reflector mounted inside at the ball's equator. The whole ball is then cabled to the ground and easily pointed using pulleys on ground mounting plates. The ball supports the dish, protects it from wind and keeps it pointed toward the satellite. Portability is a main advantage of the GATR antenna, which when deflated rolls up like a sleeping bag and weighs about 18 lbs.
IGC and GATR donated satellite link time and deployed nine antennas throughout the upper-half of Alabama, serving the Marshall County and Walker County Emergency Management Agencies, the Morgan County Sheriff's Tornado Strike Command Post, Alabama Power Co. and several other agencies. In addition, GATR also supplied Wi-Fi Internet connections for victims to contact family and friends in the areas where all communication lines were down and cell coverage was limited or inoperable.
"We are always prepared to quickly respond with our technology in the wake of catastrophic events, but we didn't expect to respond to a disaster in our own community," said Paul Gierow, President at GATR Technologies. "This is exactly what our products are geared for — first-in deployments, remote applications and contingency scenarios."