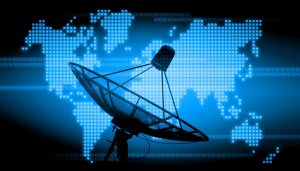 New technology such as high-throughput satellites (HTS) have transformed space architecture and invigorated what had been a predictable global market. Countries of all sizes want to leverage the capabilities and connectivity that space can provide. These assets use high-power spot beams and frequency reuse to maximize the signal sent down from the satellite and, at the same time, enable smaller terminals to transmit at higher data rates back to the satellite.
This kind of performance is a game changer for many missions, to include small tactical unmanned systems, which can now carry a comms package with performance that exceeds current payload requirements. SATCOM for Intelligence, Surveillance and Reconnaissance (ISR) is expected to be a larger market than other categories, due to ever-increasing use of unmanned aircraft systems (UAS) and the corresponding need for large amounts of bandwidth. However, the high cost of military satellite programs has to date impeded smaller nations from acquiring greater space-based capabilities.
This is now beginning to change. In addition to new technology, space is following the general IT trend towards purchasing as-a-Service. Customers can now purchase "SATCOM as a Service," as opposed to simple bandwidth. IntelsatOne Flex is a new managed service that gives customers the flexibility to respond to surges in demand and shifts in geographic coverage under a predictable cost structure. New HTS systems such as Intelsat's EpicNG are very conducive for a move to the managed services model as government customers face accelerating bandwidth demands.
HTS satellites like Intelsat EpicNG can provide up to 300 percent more throughput than existing wideband satellites. Performance is improved not only in bits per second per Hertz, but also in the aggregate MHz available and the geographic area covered. EpicNG connectivity is primarily Ku-band, which allows for many NATO missions to be fulfilled with currently owned Ku-band equipment on open HTS systems. Ku-band, unlike Ka-band, is also entirely focused on SATCOM and does not need to be shared with emerging 5G applications.
Intelsat EpicNG satellites also provide a more protected level of satellite bandwidth. Anti-jamming capabilities are greatly enhanced with low-probability of intercept (LPI) and jamming resilience, even to non-frequency-hopping modems. Interference-mitigation capabilities like on-board power monitoring and notch filtering of interferers/unauthorized users as well as monitoring, re-routing, geo-location and identification of interferers means EpicNG SATCOM is better protected for deployment in contested environments.
Intelsat operates one of the world's largest satellite fleets with 50 spacecraft. IGC customers have access to Intelsat's global terrestrial network of teleports and fiber infrastructure. And starting in 2019, IGC looks forward to collaborating with OneWeb to develop integrated GEO/LEO services that will enable government customers to have critical fixed and mobile communications anywhere around the globe. Adding OneWeb's low-latency LEO broadband capacity to our global fleet of GEO satellites will offer government customers an unprecedented level of coverage.
Governments around the world are increasingly looking for partners who can deliver a comprehensive suite of SATCOM capabilities. Moving to an "as-a-Service" model ensures the latest capabilities get deployed into space and at the same time "future-proof" those capabilities to the greatest extent possible. Leveraging commercial innovation and capacity where appropriate is the best way for governments to test, evolve and deploy new technologies, moving much faster from prototypes to operational systems.
Related Posts