From the Top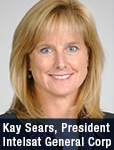 News Update
Next Generation Technology Signals the Future of Antenna Innovation
Satellite Operators See Narrow Window To Influence Pentagon
WASHINGTON — Commercial satellite operators aiming to fulfill a greater share of the U.S. Defense Department's satellite bandwidth needs see the next 18 months as a crucial window for making their case with the customer as it explores its own next-generation systems.

The U.S. Air Force is expected to undertake an analysis of alternatives for wideband satellite capacity that will help determine its way forward on a follow-on to its 10-satellite Wideband Global Satcom system. The first glimpse of that program is expected to come as early as the Air Force's fiscal year 2018 budget request.
Intelsat General's Kay Sears Honored by Industry Group With Prestigious Peter B. Teets Award
MCLEAN, VA — Intelsat General, a wholly-owned subsidiary of Intelsat, today announced that President Kay Sears has been awarded the 2014 Honorable Peter B. Teets Award, given annually by the National Defense Industrial Association (NDIA) for industry leadership in strengthening America's national security through space technologies. Ms. Sears has distinguished herself as a strong and influential technology leader for over 22 years in the satellite communications industry and has extensive experience in delivering rapid-response solutions to both military and civilian agencies of the U.S. government.
Customer Solutions
IGC People
Chris Henderson, Senior Director, Global Network Soltuions

Where to Find Us
In the coming months, Intelsat General Corp. will be exhibiting and participating in the following conference and events:
Contact Us
© Copyright 2015 Intelsat General Corporation