From the Top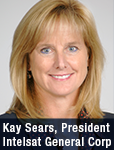 Space Command Moving Quickly to Uphold
U.S. Space Supremacy
In organizations around the world, "studying" a problem is often just a way of postponing a difficult decision. One of my key takeaways from last month'sSpace Symposium in Colorado Springs is that the U.S. Air Force Space Command wants to focus less on conducting studies of "what" will best serve the DoD's global communications requirements, and more on executing "how" the command can best meet those needs.
This change in direction is being fueled by factors beyond tighter budgets. General John Hyten, the new Commander of Air Force Space Command (AFSPC), has taken charge at a time when American supremacy in space in being challenged as never before. Space technology is proliferating, with many nations now having the capability to launch and operate satellites. The same missile technology that can launch a satellite into space can also be used to destroy the spacecraft of adversaries. Ground stations that communicate with satellites can also be used to jam spacecraft operated by other nations.
Lt. Gen. Samuel Greaves, head of the Space Command's Space and Missile Systems Center, summed this up forcefully in a talk at the Colorado symposium, by highlighting language from the 2010 National Space Policy on how the global spread of space technology is creating an environment that is "congested, contested and competitive." And a recent AFSPC initiative on Space Mission Forcedescribes an environment that is "contested, degraded and operationally limited."

Another factor contributing to the change from studying to doing is that the Space Command and others have developed a much greater appreciation for how quickly and inexpensively its communications needs can be met by the commercial space industry. Just one example of this was driven home to the audience at a symposium panel by Craig Cooning, President of Boeing's Network and Space Systems Group.
Cooning told the story of a visit to Boeing's satellite assembly facility by Dave VanBuren, the Assistant Secretary of the Air Force for Acquisition. Cooning said that Boeing had two satellites being built side by side: one a Wideband Global SatCom (WGS) spacecraft for the Air Force, the other a wideband satellite for a commercial customer.
Cooning said the satellites VanBuren saw were identical in almost every respect, except that the WGS satellite was costing the Air Force over $400 million and taking five years to build, while thecommercial spacecraft cost the customer $250 million and will only take three years. The disparity, Cooning told the audience, grew out of a difference in buying practices, with the Air Force having far more people involved in the review and approval process every step of the way, leading to regularly changing requirements.
Examples like this have made Space Command's leadership focus not just on changing procurement practices, but also on a number of new initiatives designed to deliver the same or better service at less cost. One of these is the Pathfinder program, designed to test new ways of buying satellite bandwidth in different regions of the globe. Another is the notion of shifting the in-flight operations of the Space Command's fleet of wideband satellites to a commercial operator. A third is the plan to place commercial representatives inside the Air Force's Joint Space Operations Center (JSpOC) in California in order to improve operations and space domain awareness for the U.S. government and commercial companies. And a fourth is an initiative to move towards a common ground enterprise for command and control that achieves the right mission effects at an affordable cost.
General Hyten said at the symposium that he is 
concerned about the rapid advances
 being made by other nations in 
electronic warfare
 and anti-satellite weapons systems. His office recently released 
a detailed five-page memo
 laying out the long-term 
science and technology challenges
 faced by the Space Command. In the short time he has led the Command, he has become a 
fierce advocate
 for the Air Force using all means at its disposal to assure that the United States stays at the lead in the
new space "arms race"
 because, like he said on 
60 Minutes
, "I'm not NASA." General Hyten clearly knows what 
needs to be done
, and I believe that he won't be spending much time on studies!
Industry Insider
Include Commercial Options in DoD Satcom Architecture

In 2005, the United States had over 160,000 troops deployed in Afghanistan and Iraq. The Pentagon was ramping up remotely piloted vehicle operations over both war zones and military operational requirements filled government satellites to capacity. This led the Department of Defense to ask commercial companies like Intelsat General to help satisfy requirements for both operational data from unmanned aerial vehicles and for troops to stay in touch with families back home. The satellite industry delivered the needed bandwidth, with Intelsat going as far as moving one of its satellites halfway around the globe to provide coverage in Southwest Asia.
A decade later, with turmoil spreading around the globe, is the DoD better prepared to use space-based resources for global communications in a time of conflict? Is there a better linkage between commercial and government satellite and ground capabilities that promotes resilience and survivability and meets the expanding needs of the U.S. military in a complex world?
Not yet, but we anticipate they will be soon. In fiscal year 2016 or early fiscal 2017, the DoD will conduct an analysis of alternatives to determine the way forward for next-generation wideband communications. The study will review and recommend potential architectures for satellite communications, which we hope will consider disaggregating certain protected tactical communications, and whether the DoD should continue to own global constellations to meet its bandwidth needs, or look more to commercial operators to fill most or all of its wideband satellite demand.
News Update
Intelsat General President Kay Sears was interviewed for a number of articles related to industry issues, including these two:
Solving the Government Equation:
Tighter Budgets + Greater Needs = New Solutions

In 2013, the United States Overseas Contingency Operations (OCO) fund climbed to more than $90 billion. The Department of Defense (DOD) Fiscal Year 2016 budget request called for $50.8 billion. The status of OCO funding — a resource the U.S. government has used for a significant amount of commercial satellite communications (comsatcom) purchases in recent years — is indicative of a trend toward lower government spending that industry has struggled to adapt to in recent years. But at the same time, and in the midst of sequestration, government spending on comsatcom in the U.S. and around the world has grown. Instability around the world and government's growing role in non-combative support, such as responding to natural disasters or disease outbreaks like Ebola, have made satellite an ever more pressing need.
"According to [the Defense Information Systems Agency] DISA, which tracks our comsatcom spending, the DOD has steadily increased commercial satcom consumption each year," says Deanna Ryals, project manager for international milsatcom at the United States Air Force Space and Missile Systems Center (SMC). "Today we spend nearly $1 billion per year on this capability, and this increase is mainly due to our increased global operations."
US JSpOC to Start 'Commercial Cell Prototype' In Coming Months
The United States Strategic Command's (U.S. Stratcom) Joint Space Operations Center (JSpOC) is planning to bring in a body of commercial satellite industry officials in the coming months to tighten relations between government and industry.
Speaking at an April 10 Mitchell Institute for Aerospace Studies event, Lt Gen John Raymond, Commander, 14th Air Force (Air Forces Strategic), Air Force Space Command (AFSPC); and Commander of Joint Functional Component Command for Space (JFCC) said the industry group will commence in early June and begin weighing in more regularly on space decisions made by the U.S. Department of Defense (DOD).
"We are going to have a cell of commercial space operators that will reside at the JsPOC, sit sid-by-side with us, and will allow us to be able to share information more easily, allow us to plan together, and allow us to capitalize on the benefits and capabilities," he said.
Customer Solutions
By Light and Intelsat General Provide Link That
Gets Military Supplies to Afghanistan

Delivering food, fuel, and other vital supplies to U.S. military personnel operating in remote areas of Afghanistan is not an easy task. An important first step is finding out which supplies are needed at what location and relaying that information back along the supply chain from Afghanistan to the point of shipment, often in the United States. In most cases, such communications are only possible via satellite because a local infrastructure does not exist or has been damaged by war. And satellite connections to small in-country networks require on-site technicians to install and set up ground antennas.
For the past two years, Intelsat General and By Light Professional IT Services have teamed up to provide the U.S. Defense Logistics Agency (DLA) with connections between U.S. and allied supply officers in Afghanistan and the DLA's global network of warehouses and shipping facilities. As the prime contractor, By Light has established and maintained the connection while Intelsat General has provided the link between Afghanistan and the DLA network via two Intelsat satellites and two teleports.
The DLA provides the U.S. military and its allied forces with a full spectrum of logistics, acquisition and technical services, from food, guns, uniforms, and medical supplies to construction equipmentand vehicles. The agency also supports humanitarian relief efforts at home and abroad, including the 2011 Japanese earthquake and hurricanes Isaac and Sandy in 2012 in the United States. The agency processes nearly 100,000 requests every day from troops and federal agencies around the globe asking for supplies and other materials.
To help the DLA communicate with supply officers stationed in Afghanistan, By Light sent technicians there two years ago to establish ground services at multiple sites located around the war-torn country. The technicians set up the ground equipment to establish small virtual private networks that were then connected to the Intelsat satellites. Requests for equipment and other support go over the Intelsat network to the DLA enterprise network.
By Light has set the DLA up as a virtual network operator so that the agency can receive the requests and communicate directly with personal in Afghanistan.
"Once we got the network set up, we haven't had any problems," said Jeff Adelman CS2-SB Program Manager of By Light. "Intelsat General's end-to-end solution and capacity to meet surge requirements coupled with By Light's operational support has exceeded DLA's expectations."
IGC People
Steve Jackson, Principal Technical Support Engineer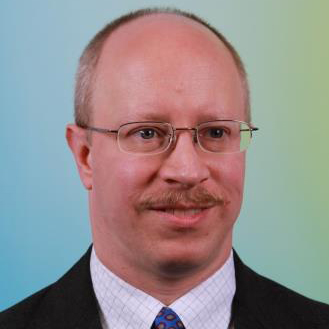 Steve Jackson is a principal technical support engineer at Intelsat General, with a wide range of engineering responsibilities both for existing customer services and for the deep analysis that goes into new business proposals.
His daily activities might include defining the satellite capacity that best supports a customer's evolving needs; performing link budget analyses for a business proposal; or doing the engineering required to create an end-to-end solution for a government customer.
He has been deeply involved in the service Intelsat General provides to the U.S. Marine Corps, the U.S. Navy's Commercial Broadband Satellite Program, and U.S. Northern Command. Most recently, Steve has also supported satellite-related services including a commercial provisioning demonstration for the Air Force Satellite Control Network (AFSCN).
Steve joined Intelsat General in 2013 after working more than 20 years in satellite engineering positions at companies that included Intelsat, TeleCommunications Systems, L3 Communications, Orbital Sciences and TRW.
He became interested in satellites at a very young age when he was growing up in Toledo, Ohio. He got his first ham radio license when he was in the 6th grade, and in the 8th grade got involved with AMSAT, a global organization established to design, build and launch small satellites carrying amateur radio payloads.
He went on to get his electronics engineering degree at Weber State University in Ogden, Utah, where he also managed the scheduling, operation and maintenance of the school's WeberSat satellite and its control station for a series of space technology experiments.
Steve lives in Sterling with his wife and two children and, in his spare time, continues to participate in ham-radio activities.
Where to Find Us
In the coming months, Intelsat General Corp. will be exhibiting and participating in the following conference and events:
Air Force Association and SMC Executive Forum
, Los Angeles, CA, May 15, 2015
Speaker: Mark Daniels, VP Engineering and Operations
Shadow Warrior Week
, Ft. Bragg, NC, July 14-16, 2015
Contact Us
Nancy Nolting
703-270-4280
7900 Tysons One Place, 12th Floor
McLean, VA 22102-5972
© Copyright 2015 Intelsat General Corporation