Progress on Epic

NG

, OneWeb and New Ground Terminals Bring Higher Performance
Over the past few weeks, we have reached some significant milestones that have moved us closer to providing a much wider range of services to our commercial and government customers operating almost anywhere in the world.
The most recent development was the launch this past week of the newest Intelsat EpicNG satellite, Intelsat 35e. The satellite's Ku-band services include customized high-power wide beams for mobility and government applications in the Caribbean, trans-Europe to Africa, and on the African continent.
Government customers operating on our first two EpicNG satellites, Intelsat 29e and Intelsat 33e, have reported considerable gains in throughput with the powerful EpicNG spot beams compared to using wide-beam satellites. One customer testing on Intelsat 29e determined that throughput on its terrestrial platform was three to five times higher than on traditional widebeam satellites, and exceeded the performance of comparable antennas using the U.S. government's WGS satellites. The higher throughput allows for more applications to be run simultaneously, including secure and non-secure email, chat services, secure voice over IP, and secure video teleconferencing. In addition, customers tell us that the greater throughput will allow for a critical common operational picture to be seamlessly shared across units that are geographically dispersed across the battlefield.
Earlier in June, our partner OneWeb passed two major milestones that moved our ability to offer a new broadband capability to our government customers a step closer. The first was approval from the Federal Communications Commission of OneWeb's application to operate in the United States. The second was the beginning of OneWeb satellite production at an Airbus factory in Toulouse, France.
Even though Intelsat and OneWeb have terminated their proposed merger, we remain a key OneWeb partner. In fact, the company is currently building out OneWeb's satellite control center in space subleased from Intelsat at our McLean, Virginia, headquarters. In our collaboration with OneWeb, we will be developing integrated GEO/LEO services that will enable government customers to have critical fixed and mobile communications anywhere on the globe, from the polar regions to the most remote, isolated terrain.
Production of OneWeb's 700+ satellites began in late June in France and should eventually reach a pace of three satellites per day, according to Airbus. OneWeb and Airbus broke ground in March for a second satellite production factory near the Kennedy Space Center in Florida where the majority of the satellites will be built. OneWeb expects to launch its first satellites in April 2018, with 300 projected to be in orbit by the end of 2020 and more than 600 a year later.
The addition of OneWeb's low-latency LEO broadband capacity to Intelsat's global fleet of GEO satellites will offer our government customers a level of coverage never before available. The U.S. Department of Defense has submitted a budget request for FY 2018 that includes significant investments in space capabilities. While investments into commercial satellite capacity represent only a small fraction of the DoD's overall space investment, we are encouraged by the Pentagon's continued efforts to evaluate how services like Intelsat and OneWeb can play future roles in the government's communications systems architecture. These efforts are critical to informing the ongoing Wideband Communications Services Analysis of Alternatives and the DoD's future wideband architecture.
In addition, Intelsat partner Kymeta shipped its first flat-panel antennas in June. The Kymeta design uses electronic beam steering instead of mechanical parts to follow a satellite across the sky. Such a design is critical for connecting to OneWeb's constellation of LEO satellites that require connections to pass from satellite to satellite as they orbit the earth every 100 minutes. The Kymeta flat panel antenna design is also a game changer for a broad range of airborne, maritime, and ground-mobile applications.
Intelsat is also partnering with other electronically-steerable antenna developers to bring a product to market that is ideally suited for in-flight communications from aircraft carrying top government officials. These flat, light-weight antennas are also suitable for use on the smaller class unmanned aircraft systems that government agencies could use more widely for non-military operations in the United States and elsewhere around the world.
Combining the power of the Intelsat's EpicNG constellation with the low-earth-orbit OneWeb satellites and the flat-panel antenna technology promises to provide our customers with a wider range of choices and applications in the coming years. We will continue to work on these projects and keep you apprised of the progress we are making.
In the meantime, please feel free to reach out to us with any questions.
North Dakota UAS Training Center Depends on IGC Satellite Connectivity
Unmanned Aircraft Systems (UAS) have played an important role in the U.S. military's operations in the Middle East, Africa and Southwest Asia in recent years, using ever-more-sophisticated on-board sensors and cameras to provide valuable intelligence to troops on the ground. As the UAS technology has evolved, companies serving government customers have introduced a range of non-military applications, from crop and pipeline inspection to international border surveillance and natural disaster monitoring, increasing the market for UAS.
General Atomics Aeronautical Systems Inc. (GA-ASI) has been developing UAS technologies for nearly 25 years and recently established its Flight Test and Training Center for customer pilots at the Grand Sky commercial UAS business and aviation park in North Dakota. Grand Sky, located on 217 acres adjacent to Grand Forks Air Force Base, is the nation's first UAS facility of its kind, with unmanned aircraft taking off and landing from the base's runways. The Air Force Base hosts the UAS operations of U.S. Customs and Border Protection (CBP). Grand Forks is also home of the University of North Dakota, a highly respected school for training pilots and for its unmanned-aviation studies program. Operations by GA-ASI, CPB, and the military require the capability to conduct beyond-line-of-sight (BLOS) operations.
BLOS operations require a satellite connection both to connect the ground-based pilot to the aircraft and to retrieve data and images collected by on-board sensors. Intelsat General recently signed a one-year contract with GA-ASI to provide bandwidth for flight operations at the North Dakota test center, as well as for the company's UAS operations from its Gray Butte flight operations center in California's Mojave Desert and its facility at Yuma Proving Grounds in Arizona.
Steve Kelly, Director of the GA-ASI center, said the North Dakota site has some advantages over the company's Southern California facility, one of which is that the airspace is less congested. The company has been flying its Predator UAS out of the North Dakota air base for several years. The newly established training center there will serve U.S. government customers as well as students from overseas governments and agencies.
Kelly said the operational area used for UAS pilot training is a wedge of airspace extending as far as a 100-mile arc to the northwest of the base. The flights are controlled by a line-of-site command link and BLOS via a 6-meter Ku-band satellite dish that connects to a commercial satellite. GA-ASI has three Predator UAS at the site and is able to fly two simultaneously.
One of the FAA's main concerns about domestic UAS operations is that U.S. airspace is crowded with a wide range of commercial, military and private aircraft. To win FAA approval for the BLOS flights from the North Dakota facility, Grand Sky is installing the Harris RangeVue system that can combine the Air Force Base radar feed and other aircraft position information from FAA flight controllers and other sources into one data stream. This allows pilots on training flights of the Predator UAS to have full situational awareness of all manned and unmanned aircraft in or near the flight operations area. The Northern Plains UAS Test Site recently received FAA approval to move forward in a two-phased approach using RangeVue that will ultimately allow BLOS flights without requiring a manned chase plane to continually observe the UAS.
In addition, Kelly said GA-ASI is currently working with the FAA, NASA and several industry partners to develop standards and test an on-board detect-and-avoid (DAA) system for Predator that provides an electronic means to meet the FAA's DAA Phase I requirements. DAA is a key capability for full integration of UAS into the FAA's National Airspace System. A prototype DAA system has been flying since 2014 and provided the empirical flight data in support of the standards that were released in May. In the future, when a plane is equipped with such a certified system, the on-board platform will provide the "pilot-in-the-loop" alerts and guidance to remain clear of a conflict, including vertical automatic aircraft maneuvers to avoid a potential collision.
Kelly said the pilots going through the training typically have flown hundreds of hours in commercial or military aircraft. The 90-day training curriculum can be tailored to fit the experience and needs of the individual pilots. They use a classroom and a flight simulator at the University of North Dakota campus, then go to Grand Sky for flight sessions that usually last from two to four hours. However, the aircraft onsite are capable of flying for 24 hours at a time. In addition, the GA-ASI center trains the men and women who operate the sensors on the UAS. At the center, they learn to operate the optical, infrared and other sensors on the aircraft that collect the intelligence, surveillance and reconnaissance (ISR) data from the ground.
"The market for UAS operations is continuing to grow," said Kelly. "The world just cannot get enough ISR capability, and our training facility will help us meet the demand for pilots and payload operators of these systems."
Industry Perspective: Intelsat General's Skot Butler on future satcom
As the satellite communications environment is swirling with some potentially major changes – including in how the government and military buy satcom services – many in industry are keeping a close eye and looking for cues of what's next. Currently, the Air Force is conducting an analysis of alternatives, or AoA, for next-generation wideband satcom options. The satcom community is watching closely as the AoA unfolds, and as the Defense Department begins leaning in on managed satcom services. Skot Butler, Intelsat General Corporation president, is watching, too. The veteran satellite industry executive recently spoke with C4ISRNET to offer his perspective on the changing world of satcom, what the commercial sector is looking for from the government and where he sees things heading amid an evolution in the industry.
C4ISRNET: Let's start with talking about the AoA, since it's a pretty hot topic in satcom right now. From your perspective, what are you seeing? What does the AoA mean for you?
SKOT BUTLER: There is quite a large group of people working that analysis of alternatives with lots of different work streams. One of those work streams is a commercial work stream which, while it is not comprised of people actually from the commercial world, there are inputs and opportunities for us in commercial industry to get our thoughts into that process. As a large and important customer of the industry, it's obviously strategically important to us in what they do next in terms of how they'll handle their wideband satcom into the future. That's certainly one piece.
It connects directly to sort of a larger conversation that we've been having around commercialization, which would include not just the space segment piece but also what they do on the ground. So how do they fly their satellites? There is a pending RFP…for the flight operations of the [Wideband Global Satcom, or WGS] constellation, and also it looks like now they're going to add the [Defense Satellite Communications System, or DSCS] constellation onto that as well. They're looking at commercializing that operation, allowing [industry] to fly their satellites for them.
For us that's important that we understand and that we're part of whatever that long-term architecture is, rather than playing more of a spot-market purchasing and so forth, which is largely the way the relationship has been for the past decade or so.
Cybersecurity: Who is Keeping Our Satellites Safe?
Vinit Duggal was updating his family's home wireless network recently when he noticed 39 connected devices, including phones, laptop computers, printers, alarms and a couple of televisions. Even Duggal, director and chief information security officer for satellite fleet operator Intelsat, was surprised by the number of connections. "I thought, 'How do I have all these things,'" he said. Read more
Military Not Taking Advantage of New Commercial Satellites
The commercial satellite industry, which the U.S. military relies heavily upon to communicate with its global forces, is launching systems that have throughputs that are orders of magnitude higher than any previous spacecraft. The Pentagon and the armed services, however, are unprepared to take advantage of the advances, both in the technology and in its business practices, industry representatives say. Read more
New Flat Panel Satellite Antennas Hitting the Market
A pair of startups are poised to introduce radically new satellite antennas that have the potential to alter the look of military air, land and sea platforms. Electronically steered flat panel antennas are intended to replace the round, parabolic receivers/transceivers that jut up from ships, command-and-control vehicles and aircraft. Intelsat is not developing or manufacturing the new wave of antennas, but is investing in at least two companies that intend to introduce the new technology within the next year: Phasor Inc. of Arlington, Virginia, and Kymeta Corp. of Redmond, Washington. Read more
Evolution: Satellite Firms Adapt to Serve Drones, Connected Cars
As in other industries, the frequency experts in the unmanned sector are scouring the spectrum gameboard for hidden slivers of bandwidth to support the flood of connected vehicles, drones, and other devices expected to fill the future. With prices for wireless frequencies running into the billions of dollars the debate over how to solve spectrum shortages has been intense and, at times, testy. There is bandwidth available, however, though perhaps not entirely where expected. Read more
Radell "Rae" Prayor, Contracts Manager, Federal Market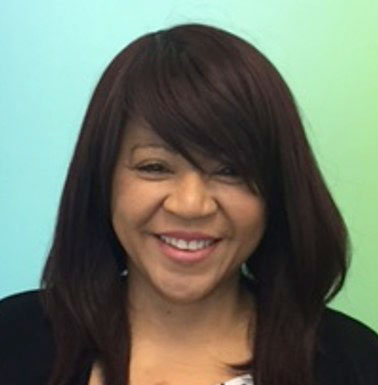 Radell Prayor is a federal markets contract manager for Intelsat General, with over 20 years of experience in contract negotiations, administration, risk mitigation, and proposal development. She joined the company in April 2013 and focuses on customers that are in the intelligence and defense communities.
In her role, she is responsible for contract negotiations and administrative functions as well as proposal development, request-for-proposal analysis, and risk identification. She has supported Intelsat General contracts with the U.S. Navy, the Armed Forces Radio & Television Service and the Army & Air Force Exchange Service. She also is a lead point of contact for the company's new Flex service for government customers.
Prayor began her career at SAIC in 1997 where she spent 10 years administering contracts and later served in various leadership roles at Booz Allen, Harris IT and the Northrop Grumman Corporation. Since joining Intelsat General, Rae has supported several of the company's high profile programs. Rae has been responsible for developing several key policy and contractual documents along with developing the contracts department internal SharePoint site and training material on various contract-related functions.
Prayor grew up in New Orleans, where she earned a bachelor's degree in criminal justice before moving to Atlanta, GA, for graduate studies at Clark Atlanta University. She later received Certification of Procurement and Contract Management from the University of Virginia. Rae served four years in the Louisiana Army National Guard as a legal specialist prior to starting her career as a contracts professional.
She earned the "Go the Extra Mile" award in her first year at IGC and has been nominated for various awards every year since for her performance and professionalism supporting the business growth and development of the contracts that she supports.
Rae lives in Herndon, VA with her daughter Nia who is a second-year psychology major at Virginia Commonwealth University. Her hobbies include International travel and photography.
Upcoming Shows & Conferences
DoDISS Worldwide, August 13 – 16, 2017, St. Louis, MO
2017 Intelligence & National Security Summit, September 6 – 7, 2017, Washington DC
Global MilsatCom, November 7 – 9, 2017, London, UK
Speaker: Skot Butler, President