From the Top
Successes in 2015 Brighten the New Year
We saw many signs this past year that the government demand for commercial bandwidth and services is stabilizing after the drawdown of overseas troops and the federal budget cutbacks. We also were pleased at the growing acceptance within the U.S. military of the key role that commercial satellite operators can play in supporting government operations around the world. Fresh military leadership and the greater sense of urgency about maintaining U.S. superiority in space have created a climate of greater partnership between commercial operators and government customers, one we are confident will continue into 2016.
The diminished communications needs tied to a decreased number of deployed troops are being somewhat offset by the increase in airborne intelligence, surveillance, and reconnaissance (AISR) requirements to cover extremist activities in Iraq, Syria and Northern Africa. Commercial capacity continues to be the workhorse for these missions as the Air Force and Army routinely fly combat air patrols using various types of remotely piloted aircraft (RPA).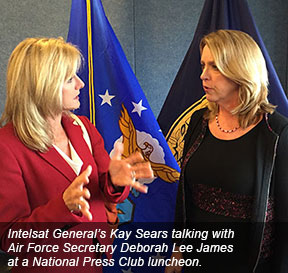 Following a recent trip to the region, Secretary of the Air Force Deborah Lee James returned with a clear message from the combatant commanders about the need for increased ISR. We stand ready to support this with our existing widebeam capacity and our upcoming high-throughput Intelsat EpicNG platform. Intelsat will be launching its first of seven announced EpicNG satellites in January, the Intelsat IS-29e.
We made progress this past year with the Pentagon's Pathfinder program. Pathfinder seeks to define new space acquisition models that will then inform the future government space architecture and the role that commercial satellite operators will play. A number of new concepts are on the table, such as "reverse WGS" where the military would buy a single wideband commercial satellite, but then get access to an operator's global fleet of satellite capacity. Such thinking will lead to new, affordable approaches for how the government acquires wideband communications capacity in the future and builds a resilient architecture.
Another development this past year was the creation of the Commercial Integration Cell (CIC), established as a pilot program to improve information sharing and collaboration between DoD and commercial satellite operators. Personnel from commercial companies are assigned to sit alongside military personnel at the Joint Space Operations Center (JSpOC) as a means of enhancing the commander's situational awareness of the space domain and developing tactics and procedures for combined operations.
With the primary intent of focusing critical operational resources on battle management, General John Hyten, Commander of Air Force Space Command, has directed the Space and Missile Systems Center (SMC) to consider ways of shifting routine operational tasks such as bus operations to the commercial industry. This year we responded to several RFI's that would clearly demonstrate the benefits to SMC of our five decades of satellite operations experience and the resulting efficiencies we can deliver.
Flying the WGS fleet of satellite buses, for example, would fit extremely well into Intelsat's current operations process since we currently fly the exact same bus with our own fleet. Other opportunities which are being explored for commercial off-load include single satellite missions and test satellites where the cost of standing up a separate operations center is not feasible. SMC is also investigating how to augment the Air Force Satellite Control Network (AFSCN) with commercial ground stations, thereby increasing the resiliency of that network and potentially replacing older sites with commercial teleports.
Much of the change this past year was driven by a combination of very progressive thinkers who are in key leadership roles in the Pentagon, at Air Force Space Command and in Congress. These include Doug Loverro, Deputy Assistant Secretary of Defense for Space Policy; General Hyten; and Congressman Jim Bridenstine of Oklahoma, a member of the House Science, Space, and Technology Subcommittee of the Armed Services Committee.
These leaders realize budget constraints require the government to be more thoughtful about space acquisition, but at the same time they understand that the space threat environment is changing rapidly. There is urgency in figuring out how to balance the increasing congested and contested threat environment with affordable solutions.
Satellites, like those in our new high-throughput Intelsat EpicNG constellation, bring more capability at lower cost per bit to the government communications domain. We can provide solutions that are cost-effective, freeing resources to invest in critical military applications that leaders like General Hyten need in the evolving threat environment.
In 2016 we are launching four new satellites, including two new high-throughput Intelsat EpicNG satellites, the first of which is launching on January 27. Our EpicNG satellites will provide up to ten times the throughput of existing generation satellites to very small terminals.
The U.S. government is learning how to spend its money for space more effectively in a period of unparalleled changes to the space environment. Intelsat General and the broader commercial industry are going to be a major contributor to those solutions enabling greater throughput, resiliency and reconstitution of capabilities in a much more congested and contested space.
News Update
Hosted Payload Hopefuls Eye Air Force's SBSS Follow-on System

WASHINGTON — U.S. industry officials, frustrated by what they say is a dearth of opportunities to host U.S. Defense Department payloads on commercial satellites, appear to be setting their sights on a space surveillance mission slated for launch around 2021.
Although the Space Based Space Surveillance (SBSS) follow-on mission has been described by the U.S. Air Force as one that would feature dedicated government satellites, industry officials say the service recently indicated it is open to a different approach.
Janet Nickloy, vice president of responsive ISR solutions at Harris Space & Intelligence Systems of Melbourne, Florida, said that "there was commentary by Government officials accepting alternative architecture solutions, including hosted payloads," at an SBSS industry day held by the Air Force in September.
Stepping up the Combative Stretegy
The 2010 FIFA World Cup brought about more than just soccer-fueled revelry. This celebrated tournament didn't just showcase athletic excellence, nor merely prove South Africa's unfaltering ability to hospitably host the world. In addition to the bitter-sweet excitement that goes with the sport, the event also highlighted a problem that disturbs the whole globe: satellite interference.
During the month-long tournament, the broadcast of several games was interrupted due to signal jamming, resulting in millions of viewers across the Middle East and North Africa (MENA) being trapped in a state of sheer frustration. One of the biggest FTA markets in the world, the MENA region went from being enthralled by pure soccer adoration, to the annoyance and panic induced by pixelated images that shifted between fuzzy hazes and black nothingness.
Space Business Leaders Look to the Future of the Satellite Market
Business leaders across the satellite and space sector met in Washington, D.C. on Nov. 18 at the Atlantic Council's "Space Race in Business Panel" to discuss how they plan to adapt for the evolving provision of services that require the space segment to acclimate to a new frontier. The panelists, including senior executives from Arianespace, Intelsat and Lockheed Martin, among others, discussed how their companies are working toward the shorter launch timelines and more affordable price points necessary to compete with "NewSpace" companies and introduce new systems and solutions in both commercial and government markets.
"We have to adapt to change," said Clayton Mowry, president of Arianespace. "When we started in this business we were competing against the space shuttle and then we evolved to compete against Atlas, Delta, Proton, Zenit, Falcon, all these new systems that have come on the market place."
Customer Solutions
New Billing System to Better Serve Mobile Customers
Most Intelsat General customers pay for satellite usage under contracts that provide a specific amount of transponder capacity over a certain period of time. But customers using mobile satellite services through devices like satellite telephones often are billed based on actual airtime. To better serve these customers, Intelsat General has switched to a specialized airtime billing system called SATbill that is widely used throughout the mobile satellite services industry.
SATbill, developed by Symbiosys Business Solutions of Cheshire, England, streamlines the billing system for customers using Globalstar, Thuraya, or other mobile satellite equipment connected to the Intelsat General network. The system can bill for all call types as well as for value-added services. The system also makes it easy to add new services or modify existing ones.
Intelsat General's old billing system has been in place for eight years, but the company that developed the software had gone out of business. Intelsat General began looking for a new billing services provider in 2014, and spent much of 2015 customizing SATbill to suit customer requirements; training staff in the SATbill service; and testing the new system.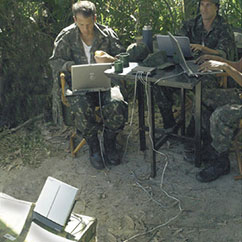 Some of the challenges to implementing a new billing system included the laborious task of making sure the fields in the old billing systems mapped accurately to the new system; ensuring that SATbill and the processes surrounding it met regulatory requirements; and timing the change-over to the year-end closing and annual audit. Further testing must take place to satisfy auditing standards, but the new system is expected to go online at the end of the first quarter.
IGC's MSS customers require communication devices that are small, portable, and operate seamlessly worldwide. The customers are willing to sacrifice data throughput for the small size, weight, and power requirements. These MSS terminals are typically used on short- or mid-length durations, often during quick-reaction deployments. Over time, the terminals could be used by different people on different missions in different areas of the globe. MSS offers a quick deployable terminal that provides voice and data capabilities. If the customer has a long-term requirement or requires higher data rates, they will usually deploy an FSS (VSAT) solution.
IGC is a reseller of services from all of the major MSS providers: Inmarsat, Iridium, Thuraya, and Globalstar, and each of them has its own unique billing issues that SATbill is designed to solve. Some MSS systems specialize in handheld phones that focus on voice calls with low-speed data as an option. Other systems offer a range of services to include background IP, streaming IP, voice calls (to PSTN), ISDN, fax, and STS. IGC customers tend to use the IP data and voice services the most. MSS systems offer a variety of coverage as well. Some are regional, some are nearly global, and others are truly global including the poles in their coverage area.
SATbill will provide IGC the immediate capability for billing on-demand, usage-based MSS customers more efficiently, while providing the capability to add services in the future. The new billing system is also a model to be used for other usage-based billing requirements, including FSS or terrestrial, whether it be the number of megabytes used or the number of minutes for a voice call or VTC.
IGC People
Lesley Rahman, Senior Manager, Systems Engineering

Lesley Rahman is Senior Manager of Systems Engineering (SE) at Intelsat General, and leads the seven-member team responsible for the company's systems engineering and information technology activities. Her SE team develops capabilities to support complex emerging requirements in flight operations, ground operations, and hosted payloads including providing support for all related proposal activities as well as supporting IGC process engineering and service delivery enhancement initiatives. Her team also participates in Satellite Deployment Plan activities, serves as liaison to the Intelsat Asset Management team, and supports Intelsat EpicNG initiatives.
Lesley joined Intelsat General last July after nearly 17 years at Honeywell Technology Solutions Inc., where she held a number of positions related to spaceflight systems and operations. She joined Honeywell a year out of college in 1998 and initially was involved in the development of a commercial ground network called DataLynx. As part of this effort, she led the integration, test, and operational support for many different NASA satellites on the commercial DataLynx network.
In 2004, she became Deputy Manager, Human Spaceflight, where she coordinated international partner activities in support of mission operations for the International Space Station and ensured ground and space network readiness prior to each Space Shuttle mission. After two years in that position, she became Capture Manager, playing a key management role in the business acquisition process for a $750 million contract.
In 2008, she served as Risk Manager for a contract in support of NASA's Space and Ground Network and Lead Systems Engineer on a ground network scheduling system replacement task. The next year, she was assigned to help manage full life-cycle procurement, integration, test and sustainment of the space-ground communications and raw data recorder equipment in support of NASA's next generation of Geostationary Operational Environmental Satellites (GOES-R), which she supported until joining IGC.
Lesley graduated magna cum laude with a bachelor's degree in Applied Mathematics from Carroll College in Montana and a master's degree in Space Studies from the University of North Dakota.

Lesley lives with her family in Herndon, VA, and enjoys reading and traveling. Her most recent trip was a visit last summer to Yellowstone and Grand Teton National Parks in Wyoming. Her youngest son is in second grade and her oldest son is currently in the Air Force stationed at FE Warren Air Force Base in Wyoming.
Where to Find Us
In the coming months, Intelsat General Corp. will be exhibiting and participating in the following conference and events:
FAGA Forum on Space Intelligence, February 10, 2016, Chantilly, VA
Speaker: Kay Sears, President of Intelsat General
Ground Systems Architecture Workshop, February 29- March 3, 2016, Los Angeles, CA
Satellite 2016, March 7-10, 2016, Washington, DC
Speaker: Kay Sears, President of Intelsat General
2016 AUSA Global Force Symposium & Exposition, March 15-17, 2016, Huntsville, AL
AFCEA NGA Industry Day, March 16, 2016, Springfield, VA
Aerospace Day at the Colorado State Capitol, March 21, 2016, Denver, CO
TechNet Air, March 21-24, 2016, San Antonio, TX
DoD Unmanned Systems Summit, March 29-30, 2016, Alexandria, VA
Contact Us
Nancy Nolting
703-270-4280
7900 Tysons One Place, 12th Floor
McLean, VA 22102-5972
© Copyright 2016 Intelsat General Corporation