IGC eNews August 2015

From the Top

Industry Insider

News Update

IGC People

Where to Find Us

Contact Us
From the Top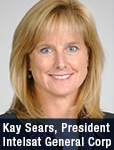 IntelsatOne Flex to Give Mobile Users
Better Pricing, More Control
Like lots of people, I have a smartphone that I use for email, texting, phone calls and many other daily tasks. But truth be told, most of the time the device is in my purse or pocket, standing by for when I need it next. Yet I pay a fixed monthly fee for talk minutes and data, whether I use the phone or not. And if I travel to a different country, the price of using the phone on a new network goes up dramatically.
In many ways, the satellite business has followed this cell-phone-carrier pricing model: the customer leases a fixed amount of transponder capacity covering a certain geographic area, and pays whether the bandwidth is used or not. Intelsat announced recently that it would like to change that practice with IntelsatOne Flex, a new service that could be of great benefit to the government and commercial user in these tight budgetary times and ever-more-mobile customer needs.
IntelsatOne Flex is a customizable service that will bring together the new Intelsat EpicNG high-throughput satellites (HTS), our existing Ku-band fleet, our global ground network, and optimized iDirect Velocity terminals into a unified ecosystem. Flex creates a global platform for small, geographically dispersed mobile terminals that will integrate the multi-spot-beam EpicNG platform into a customer's existing infrastructure and address inefficient bandwidth scaling on a customer's network.
Flex will allow customers to:
| | |
| --- | --- |
| • | Simplify the integration of EpicNG HTS into current wide-beam network designs. |
| • | Customize, contend, prioritize and shape bandwidth for end-user segments. |
| • | Choose among tiered plans to meet average and peak bandwidth requirements. |
| • | Quickly and easily scale services to meet surge requirements or geographic shifts in demand. |

In mobile applications, we have found that many government and commercial customers experience a wide gap between their average and their peak bandwidth demand, yet they often base contract requirements on expected peak demand. The Flex service will take this into account by pricing services based on both the average and the maximum level of service.
By using a centralized network management system, Intelsat will be able to monitor the utilization for each customer and add MHz capacity to "pinch-points" on a global basis across all vertical markets, adding bandwidth where needed to create an enterprise-grade quality of service for each customer. The network management system will also allow us to guarantee throughput for high-priority applications like emergency response or other mission-critical activities.
Commercial availability of Flex is tied to our Intelsat EpicNG launch program. The first EpicNG satellite (IS-29e) is expected to go into service in March/April of 2016, kicking off the first phase of the Flex service. We will launch additional EpicNG satellites throughout 2016/2017 that will be included in the service offering. Wide beam satellites will augment the network for additional coverage on a customer-by-customer basis, starting with full North Atlantic coverage via the upcoming IS-34 satellite, set for launch in August.
The new Flex service is another example of how Intelsat General continually strives to adjust our service offerings to fit the ever-evolving requirements of the government and commercial customer. We'll provide additional details of how the service will operate as we get closer to the 2016 implementation date.
Industry Insider
With Stability Achieved, the Future of Space is Now

When Sputnik was launched in 1957, the Space Age arrived very abruptly on America's doorstep, and the space race began with a space chase in which the United States successfully pursued and eventually surpassed our Soviet rival. In the six decades since that grim October day, the United States has had to meet and overcome problems both technical and logistical, heartbreaking failures, countless crises and gut-wrenching tragedies, but our responses to these challenges have led us to becoming the world leader in space systems.
Designing, building, deploying and operating systems in space is a hard business, not for the faint of heart. The record of our history in the space business demonstrates that when we have run into problems, we have developed the appropriate policies and procedures to solve and avoid them in the future. Although most of these policies/procedures may have been a perfect fit in their time, many have outlived their effectiveness. Times and circumstances frequently change. At one time football coaches considered the T-formation on the cutting edge of offensive strategy. Now it is thought of as a curiosity on the rubbish heap of gridiron history. Organizations and systems continue to evolve and change as time moves on.
A decade or so ago, many of our space acquisition programs were in trouble — very big trouble. Both civil and national security space programs were dramatically exceeding budget and could only be fielded considerably later than their planned schedules, and at a far greater cost than planned. From the military's point of view, this was a catastrophe. The eye-popping overruns were occurring at a time when capabilities provided from space had become absolutely essential to our warfighters with spacecraft providing the essential data and information that reduced U.S. and allied casualties, limited collateral property damage and, most importantly, helped protect innocent noncombatants.
News Update
Size Matters in Development of Next-Generation Satellite Technology

Years ago, commercial satellite providers successfully nudged their way into the military space domain, providing critical bandwidth services for platforms for which the Defense Department could not, particularly for airborne intelligence, surveillance and reconnaissance (AISR) missions. More than a decade later, some companies are gambling with technological improvements in hopes of retaining that hold on the lucrative market.
Senate Appropriators Recommend Additional $25 Million For Protected Tactical Waveform

The Senate Appropriations Committee (SAC) last week approved an additional $25 million in fiscal year 2016 for the Air Force's Advanced Extremely High Frequency (AEHF) Protected Tactical Waveform (PTW) mission.
The committee, in its report accompanying the bill, said it is concerned that the PTW mission management system and ground station hub electronics and software are not being co-developed, which the committee believes could lead to a multi-year delay in the fielding of the system and the potential for non-optimal system design. SAC said the $25 million is for the mission management system and ground station hub electronics and software development to enable protected communications utilizing existing military and commercial space assets.
Senate Democrats last week voted to block the appropriations bill from reaching the floor for a vote. The House already approved its version of the FY '16 appropriations bill, leaving it to both chambers to reach agreements in conference.
Program pairs military, industry for space operations

U.S. Strategic Command is launching a new program that officials hope will lead to greater cooperation between the private and public sectors in space operations.
Six companies have been selected to work at the Joint Space Operations Center at Vandenberg Air Force Base, California, for a six-month trial period.
The industry experts will be the first private-sector personnel to be integrated into the center's operations. They will help monitor satellite launches and daily operations, participate in training exercises, and provide firsthand technical knowledge of the satellites and technologies their businesses have developed and built.
IGC People
Phil Hulcher, Senior Program Manager

Phil Hulcher is a
senior program manager
at Intelsat General, responsible for fielding questions from customers about their
existing communication
services and making changes to their services that best meet their requirements. Because customers' communications
needs evolve and
change, Intelsat General starts new services and ends existing services regularly. Phil is
part of a team
that works closely to understand customers' businesses so that the team can propose better ways to
support satellite
communications requirements.
He was involved recently with a U.S. government customer that had a budget shortfall and needed to reduce the Intelsat General service level. The first round of proposed cuts had certain disadvantages that caused IGC to reexamine the customer's network to see if the dollar savings could be achieved in a different manner. Because new satellites had been added to the Intelsat constellation, a new set of solutions was now available that could not have been implemented when the network was first set up four years ago. The new approach Phil and his team worked out provided savings to the government and at the same time maintained the customer's service level.
Phil has worked in the satellite industry for 30 years, starting out as a product manager at GTE Spacenet in 1985. He held product and business development positions at Hughes Network Systems, Orbcomm, and Thales Communications before joining Intelsat General in 2009. He holds a patent with two others on an in-flight transceiver and locator system used by the U.S. military.
Phil earned his bachelor's degree in physical sciences at the University of Maryland and has an MBA from the University of Michigan.
He lives with his wife Gabrielle in Damascus, MD. They have two children in college and two others still at home. His hobbies are technology news, tennis, and travelling.
Where to Find Us
In the coming months, Intelsat General Corp. will be exhibiting and participating in the following conference and events:
Contact Us
Nancy Nolting
703-270-4280
7900 Tysons One Place, 12th Floor
McLean, VA 22102-5972
© Copyright 2015 Intelsat General Corporation