On December 26, 2004, the Indian Ocean region was devastated by a tsunami, an enormous tidal wave caused by an undersea earthquake.
After such devastation, it is vital to disseminate warnings, call for help, describe the level of damage, discuss needs and deliver information. Dependable two-way communications are essential to ensure effective distribution of critical supplies, equipment and human resources.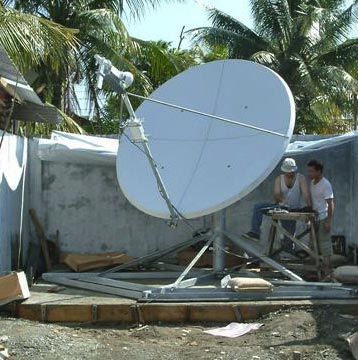 The immediate repair of damaged or destroyed telecommunications infrastructure is crucial after a natural disaster. First responders must consider:
Equipment availability
Portability
Cost
Setup time
Transmission speed
Anticipated data volume
Transmission frequency
Government and military regulations
Reliability
Today's satellite communications can address all of these issues. Of course, that assumes a service provider knows how to make satellites work seamlessly with wireless and terrestrial networks of varying technologies and standards.
Quickly joining the disaster relief effort, Intelsat General deployed both established and new telecommunication technologies:
Handheld satellite phones provided reliable communications for field personnel in remote areas — an essential part of any critical incident deployment
Very Small Aperture Terminal (VSAT) units supported data transmission among United Nations, non-governmental organizations (NGO), and relief agency sites and offices
Temporary cell networks were established and complemented with the use of two-way HF and LF radios
Voice over Internet Protocol (VoIP) was used where data connections and hardware support were available
Intelsat General helped to implement two broadband communications networks for disaster relief. Applications included victim tracking, internal displaced person (IDP) registration, logistics management, relief camp management, ID card systems, GIS mapping, relief organization registration, need and donor matching, reconstruction decision support, child protection services, collaborative work space, incident management, contact and personnel management, data consolidation, report generation and data management.
Intelsat General provided the satellite access, teleport services, hub services, overall project management, and platform and network management. Partners included:
IBM: Incident response team, Secure Wireless Infrastructure System (SWIS), telephones, Thinkpads, still image digital cameras and fingerprint readers
Future Technologies: Remote site VSAT / Worldwide Interoperability for Microwave Access (WiMAX) installation with 24/7 support
iDirect: Hub/remote equipment and systems support
Bcom: Remote site installation
Go-To-Call: VoIP call switching/management
One network provided high-speed communications outbound at 2.2 Mbps, and five returns shared 2 x 703 Kbps inbound. City sites included Banda Aceh (two sites), Medan, Meulaboh and Lamno. The second network provided 3.3 Mbps outbound. Two sites, Banda Aceh and Teunom, shared 3.4 Mbps inbound. 2.4 meter VSATs were interconnected via the Intelsat 906 satellite at 64°E to the Intelsat General Fuchsstadt teleport in Germany.  Traffic was then routed terrestrially through the Intelsat fiber optic network. A software-secure Virtual Private Network provided connectivity to UN headquarters in Geneva, Switzerland.
The Intelsat General network supported applications including voice (using VoIP connected to the Go-To-Call switch), data, Internet access, intranet connectivity, file transfer and video.
For each network, 15 to 20 VoIP phones were provided, along with wired telephones to support domestic and international telephony
Ten laptops were connected in a wireless LAN configuration using 802.11 standard WI-FI
The network was extended to a German/French-run Red Cross/Crescent hospital using a WiMAX 802.16 standard wireless metropolitan area network platform supporting telemedicine applications. The WiMAX system enables network extension for distances exceeding 50 miles, creating, in effect, a wireless broadband bubble that allows PCs with 802.11 capability to easily connect and transfer data
The systems were configured to support data encryption
Intelsat General's communications support was essential for government coordination of relief efforts. The SWIS unit installed in Banda Aceh served as the main data transmission point from the office of the governor to senior officials in Jakarta.
Preparedness is essential for disaster relief agencies, and Intelsat General responds with speed to your most urgent communication needs. Contact Intelsat General now to ensure that plans are in place for a timely response when the job is mission-critical.