Most Intelsat General customers pay for satellite usage under contracts that provide a specific amount of transponder capacity over a certain period of time. But customers using mobile satellite services through devices like satellite telephones often are billed based on actual airtime. To better serve these customers, Intelsat General has switched to a specialized airtime billing system called SATbill that is widely used throughout the mobile satellite services industry.
SATbill, developed by Symbiosys Business Solutions of Cheshire, England, streamlines the billing system for customers using Globalstar, Thuraya, or other mobile satellite equipment connected to the Intelsat General network. The system can bill for all call types as well as for value-added services. The system also makes it easy to add new services or modify existing ones.
Intelsat General's old billing system has been in place for eight years, but the company that developed the software had gone out of business. Intelsat General began looking for a new billing services provider in 2014, and spent much of 2015 customizing SATbill to suit customer requirements, training staff in the SATbill service and testing the new system.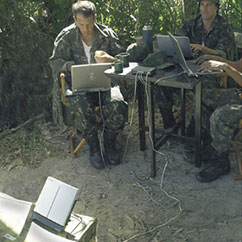 Some of the challenges to implementing a new billing system included the laborious task of making sure the fields in the old billing systems mapped accurately to the new system, ensuring that SATbill and the processes surrounding it met regulatory requirements and timing the change-over to the year-end closing and annual audit. Further testing must take place to satisfy auditing standards, but the new system is expected to go online at the end of the first quarter.
IGC's MSS customers require communication devices that are small, portable, and operate seamlessly worldwide. The customers are willing to sacrifice data throughput for the small size, weight and power requirements. These MSS terminals are typically used on short or mid-length durations, often during quick-reaction deployments. Over time, the terminals could be used by different people on different missions in different areas of the globe. MSS offers a quick deployable terminal that provides voice and data capabilities. If the customer has a long-term requirement or requires higher data rates, they will usually deploy an FSS (VSAT) solution.
IGC is a reseller of services from all of the major MSS providers: Inmarsat, Iridium, Thuraya, and Globalstar, and each of them has its own unique billing issues that SATbill is designed to solve. Some MSS systems specialize in handheld phones that focus on voice calls with low-speed data as an option. Other systems offer a range of services to include background IP, streaming IP, voice calls (to PSTN), ISDN, fax, and STS. IGC customers tend to use the IP data and voice services the most. MSS systems offer a variety of coverage as well. Some are regional, some are nearly global, and others are truly global including the poles in their coverage area.
SATbill will provide IGC the immediate capability for billing on-demand, usage-based MSS customers more efficiently, while providing the capability to add services in the future. The new billing system is also a model to be used for other usage-based billing requirements, including FSS or terrestrial, whether it be the number of megabytes used or the number of minutes for a voice call or VTC.