The recent hurricanes that hit Florida, Texas and Puerto Rico once again spotlighted the frailty of terrestrial communications services. Hurricane-force winds in the Florida Keys and Houston brought trees down on utility lines carrying telephone and Internet service and knocked out cell phone towers, while Hurricane Maria completely destroyed the terrestrial communications infrastructure of Puerto Rico and the U.S. Virgin Islands.
As experience over the past few years has shown, land-based communications services often are unavailable for days and even weeks following a natural disaster. Whether the event is a hurricane, earthquake, flood or fire, disaster victims and the first responders coming to their aid cannot depend on communicating over wires strung along utility poles or through electrically powered cell towers.
Federal, state and local emergency workers have come to rely completely on satellite communications in the early stages of a response, as was illustrated by the recent experience of Network Innovations (NI), a leading satellite solutions integrator based out of Calgary, Canada. Founded in 1988, NI has a global team of professionals located across four continents providing end-to-end satellite communications services to government customers as well as companies in the maritime, oil-and-gas and media industries. NI works with a wide range of satellite providers, including Intelsat General, to ensure they have the on-demand capacity needed by first responders following a disaster.
Chad Gatlin, VP of U.S. Government Sales, said the company assisted emergency workers following both Hurricane Harvey, which dropped over 40 inches of rain on the Houston area in late August, and Hurricane Irma, which roared through the Caribbean Islands a week later before making landfall in the Florida Keys on Sept. 10.
"Our satellite solutions enable field workers to set up emergency telecom centers or field offices in minutes," Gatlin said. "This optimizes the emergency aid process and boosts the efficiency of humanitarian missions with a suite of voice and Internet satellite services."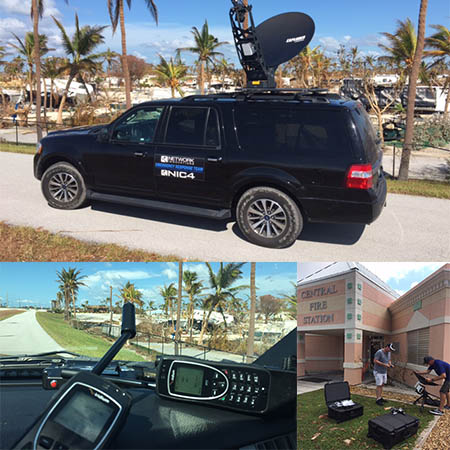 NI has a fleet of customized sport-utility vehicles packed with communications gear that can provide instant networks for first-response teams. Immediately after Hurricane Irma passed through the Florida Keys, NI sent one of its vehicles equipped with a drive-away Cobham Explorer 8120 VSAT dish and five technical teams to assist both local agencies and public safety responders. Through the Intelsat Galaxy 28 satellite, NI used its proprietary MAVERICK software platform that integrates Newtec's Dialogue Hub to provide communications to the response teams. Through the NI vehicle, responders were able to establish instant infrastructure to provide instant connectivity wherever it was needed.
The teams delivered communications to Key West and Marathon police and fire units as well as established a communications station with the National Guard in Key West to allow people waiting in food lines to send emails or make calls to loved ones.
"We have seen first-hand how important connectivity is to responder and survivor welfare," said Gatlin. "Just being able to make a call, send a message, or get an update can make all the difference to people who have lost everything and those who are supporting them."