The Social Security Administration (SSA) is one of America's most sprawling federal agencies, with 63,000 employees in 10 regional offices and over 1,200 community-based field offices throughout the country. Cities large and small have an SSA office where citizens can apply for benefits, make disability claims, and ask about other issues. To provide those employees with up-to-date training and to educate citizens about SSA benefits, the agency operates a nationwide television network with satellite downlinks to its offices.

Artel LLC provides satellite communications services to the SSA under a recently awarded contract to support the SSA agency-owned Visual Communications Control Center (VCCC), the Interactive Video Teletraining (IVT) network and the Social Security Television (SSTV) network. The satellite communications services include ongoing nationwide maintenance services of agency-owned satellite equipment and software, leased satellite bandwidth and airtime, support services, on-site technical and project management support, technical training; support critical repair times and preventative maintenance and equipment security compliance.
Artel also maintains the agency's uplink and downlink equipment and software, provides technical training to SSA staff and provides critical repair and maintenance services to prevent downtime.
Intelsat General provides 50 Mhz of Ku-band satellite capacity to support the SSA network at the VCCC at its Baltimore office. The agency has eight studios where staffers create original training or information content. Three of the studios are in Baltimore and there is one each at regional offices in Kansas City, Atlanta, Dallas, New York and suburban Seattle. Content from each remote studio goes to the VCCC via terrestrial fiber. After digitizing and compressing the signals, the VCCC uplinks the feed to Intelsat's Galaxy 28 satellite for distribution to satellite receiver dishes at SSA offices in the United States, Puerto Rico and the Virgin Islands.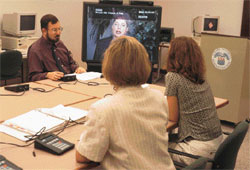 The agency operates two separate television networks. The first is the Interactive Video Training (IVT) network, which simulates a traditional classroom environment in each office, allowing a single instructor to simultaneously reach thousands of SSA staff throughout the country. With ITV, the agency can do live training from one of its studios and the instructor can interact via audio feed with the individual students.
The IVT programs train employees on crucial agency activities, including entry-level and advanced claims processing, management and supervision, automation and computer operations and general office skills. The IVT network is one-way video and two-way audio in 1,745 classrooms, and another 1,300 locations have "viewing only" capability.
The second network is called Social Security Television (SSTV) and is geared toward the needs of citizens seeking agency benefits. Televisions in the reception areas of SSA field offices display original video and multimedia content, as well as real-time weather and traffic reports, background music and other information. The SSA uses the network to inform, influence and educate the public about the agency's programs and services. Programs tell viewers what paperwork is required during a visit and educates them about how to use the Internet or automated phone services for future needs.
SSTV utilizes satellite bandwidth to deliver content and Real Simple Syndication (RSS) feeds to agency offices nationwide. The SSTV platform also supports a database program that tracks all scheduled appointments, monitors visitor information and provides reports and charts on a variety of statistical data. The SSTV network currently serves 1,235 agency offices.