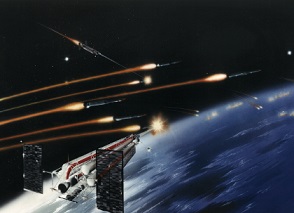 Old and new adversaries are working intently to counter America's supremacy in space. This fact has been discussed widely within government and industry circles for some time, but has recently burst into mainstream press attention.
Articles earlier this month in Reuters and other publications were followed by an in-depth feature piece on the U.S. Air Force Space Command that aired on the CBS news program "60 Minutes" on April 26. In an interview with a 60 Minutes reporter, General John Hyten, Commander of Space Command, said of the new race in space:
"It's a competition that I wish wasn't occurring, but it is. And if we're threatened in space, we have the right of self-defense, and we'll make sure we can execute that right."
This new technology race in space has the DoD evaluating how it procures, launches, and supports space assets. Hyten has called for changes in how the DoD leases capacity from commercial satellite operators, and for moving certain operational duties over to commercial.
This would allow his Space Command to focus more on emerging threats in space. Gen. Hyten has also been vocal about the need for more numerous and frequent satellite launch options, as well as moving away from satellite systems that take a decade or more to develop and deploy.
In an unusual move, Space Command recently published a memo highlighting what its leadership sees as top science and technology priorities in the coming decades. In the "Long-Term Science and Technology Challenges Memo," Space Command Chief Scientist Dr. Merri Sanchez lays out four specific challenges:
Revolutionize capabilities to enhance battle management command, control and communication (BMC3) of space and cyberspace operations.
Advance disruptive innovation, placing capabilities in space and cyberspace domains rapidly and at dramatically lower cost with significant performance increases.
Develop advanced space and cyberspace technologies that provide real-time domain awareness and predictive battlespace awareness.
Establish mutually-supportive, resilient space and cyberspace technologies that provide predictive threat analysis of all domains
This sort of "crystal ball" is invaluable to the commercial space industry as it works with DoD to tackle these critical challenges. The hope is that this openness regarding challenges and priorities will be matched with a willingness to articulate commercial's role as the U.S. builds a next-generation architecture in space.
Despite supporting the DoD in space for over 20 years, the commercial providers have never been given a comprehensive framework of how to work with the military in space; however, a new culture of collaboration is emerging, as Intelsat General President Kay Sears talked about in an article late last year.
Eleven countries, including Iran and North Korea, now have the ability to launch objects into orbit. And Russia and China are actively developing anti-satellite technologies. In such an atmosphere, clear collaboration between the commercial industry and the DoD is essential to maintaining America's operational supremacy in space.