IGC eNews October 2014
From the Top
News Update
Customer Solutions
Industry Insider
IGC People
Where to Find Us
Contact Us
From the Top
New Leader of Air Force Space Command
Focused on Survivability
As most of you know, General John Hyten took over the leadership of the U.S. Air Force Space Command in August, succeeding General William Shelton, under whom he had been vice commander for two years. Both men have displayed a keen understanding of how Air Force Space Command can take greater advantage of the commercial satellite resources available to the warfighter, and we at Intelsat General are quite pleased to see General Hyten selected to follow in General Shelton's footsteps.
General Hyten is an engineering graduate of Harvard University and has spent his 33-year Air Force career working on technology and space challenges. His wide-ranging experience has given him a broad view of the issues facing Air Force Space Command as it seeks to protect America's ability to safely use space resources for communications and remote sensing. He is a keen advocate of maintaining United States superiority in space, and of the nation being able to maintain space-based communications under any circumstances. As General Hyten said in his recent speech at the Air Force Association's Air & Space Conference in mid-September, "We have to figure out how to fight through the challenges we face and still deliver the capabilities that our warfighters absolutely are fundamentally dependent on. We have to do that. It is our sacred responsibility."
In that and other speeches General Hyten has given in the past couple of years, he has focused on the military's need for a survivable space architecture, one that requires space assets to be "disaggregated" over a number of platforms rather than concentrated on a handful of satellites. His thinking on this topic has spread throughout the commercial industry, leading to increased interest in hosted payloads and other means of shifting important military requirements, including communications, to widely dispersed commercial satellites.
At Intelsat General, we have been working on hosted payload concepts for years, beginning with the Internet Routing in Space (IRIS) technology demonstration payload we launched in 2009 for the Department of Defense (DoD) aboard the Intelsat 14 satellite. Commercial companies initially promoted the hosted payload concept as a means of economically delivering a capability to space. The Australian Defence Force (ADF) estimated that it saved $150 million by hosting a communications payload aboard Intelsat 22 in 2012, rather than building and launching its own ADF satellite.
Hosted payloads remain economical, but their role in spreading government space assets over many satellites – disaggregation — has become as important to the DoD. As General Hyten said in his Air Force Association speech, "Resilience is made up of a number of things. Disaggregation could be a big piece of that, because right now we have a very small number of satellites on orbit and our adversaries know exactly where they are. If you know exactly where they are, then it's fairly easy to figure out how to deny the capabilities that comes off those satellites."
This concern led Air Force Space Command to create the Hosted Payload Solutions program, HoPS for short. In July, Intelsat General was one of 14 companies selected to bid on future HoPS contracts to build and launch Air Force payloads on commercial satellites.
The continuing pressure on federal spending has given General Hyten one of the toughest jobs in the military. He said recently in an interview with Space News that he fears another round of across-the-board budget cuts "will break Space Command." While the Air Force can ground training flights to save money, Air Force Space Command can't just shut down a satellite constellation without a long-term impact on the global communications capability of the U.S. military and a very real impact to national security.
General Hyten is looking for any way he can to trim spending, and a recent request for studies of how commercial companies could take over some of the Air Force's ground-based satellite control operations provides an innovative example. Intelsat General was selected to do one of these studies.
But, as we have often said, the U.S. military still needs its own space capabilities for its most vital functions. Commercial companies such as Intelsat General can provide a portion of the satellite capacity, ground networks and other solutions necessary for U.S. government communications. General Hyten is a leader who knows what that commercial role should be, and we look forward to working with him over the coming years in support of his efforts to maintain U.S. space superiority that is both affordable and survivable.
News Update
Space industry looks at DoD's UAV broadband requirements
The space industry is working with the US Department of Defense to help better shape the broadband requirements of unmanned air vehicles in years to come, an industry executive has revealed.
UAVs are commonplace in many US military operations, but the full motion and high definition video capability that is continually required to be streamed from them means it continues to rely on commercial capabilities for satellite communications (SATCOM), Skot Butler, vice-president of satellite networks and space services at Intelsat General, says.

Intelsat General Awarded Contract Extension for Delivering American Forces Radio and TV Service
Bethesda, MD, Oct. 6, 2014 – Intelsat General Corp. has been awarded a complete one-year contract renewal to deliver radio and television programing to U.S. military forces serving around the world. The original one-year contact was signed in 2011 and had six, one-year renewal options.
Under the contract with the American Forces Radio and Television Service (AFRTS), Intelsat General provides a global distribution network that delivers multi-channel, broadcast-quality radio and television programs to military forces and their families stationed outside of the United States as well as to military personnel aboard United States Navy ships at sea.
Intelsat General Extends Contract to Provide Satellite Capacity to Forces in Afghanistan
Bethesda, MD, Sept. 8, 2014 – Intelsat General Corp. received a one-year contract renewal for satellite capacity from DRS Technologies, one of several previously referenced renewals that were received in the 2014 third quarter under the Future Commercial Satellite Communications Acquisition (FCSA) vehicle.
Under the contract, entering its third year, Intelsat General is supplying satellite services to DRS Technologies, a division of Finmeccanica, in support of U.S. Central Command requirements in Afghanistan.
Customer Solution
Broadband Service to Navy Ships Restored after Forest Fire
Burns Teleport Cables
On a ship at sea, fire prevention is a major concern. So it is ironic that a fire, not at sea but in a forest 50 miles inland, could knock out satellite services to U.S. Navy ships in the Pacific Ocean. The fire, known as the Carlton Complex wildfire, occurred this past July in Washington State near the USEI teleport in Brewster. The blaze burned for more than two weeks, destroying terrestrial cable connections to the teleport and 300 homes over an area of 400 square miles. It was the largest fire in Washington State's recorded history.
On-site engineers at the teleport had been monitoring the fire in the late night hours of July 17 when they learned that it had unexpectedly changed direction and was headed directly toward their facility. Just after midnight, as they prepared for the worst at the 54-antenna complex, the fire came within a mile and consumed the terrestrial connectivity into the teleport. As a result, the Navy lost its Commercial Broadband Satellite Communications Program (CBSP) services. USEI engineers were left with cellular telephones as their sole lifeline to the outside world. They quickly notified their counterparts David Wilson and Gabriel Clark at the Intelsat General CBSP Secure Control Center (CSCC), who in turn immediately sent out a "Code Red Alert" to the CBSP Management Team, consisting of Intelsat General and the other dozen companies involved in providing the CBSP service.
Luis Nakpil of Intelsat General and Mike DiLandro of SES were the first to respond, and immediately initiated a response plan in accordance with the team's established procedures. Soon after, other members of the team arrived on-site in the CBSP Situation Room at Intelsat General's offices in Bethesda, MD. The team included Bill Flynn of SES and, from Intelsat General, Jonathan Bae, John Rasmussen, Darin Fleming, Jeff Chiocchio, Steve Jackson, Hank Rausch, Dennis Boiter, Todd Cress, Tim Turk, Bill Andrews, James Spaulding and even Hector Vivanco, who called in from his vacation at the World Cup in Brazil. They immediately went to work to identify all the affected customers and to implement a recovery solution.
Recovery of services impacted by the loss of connectivity at Brewster proved to be a complex technical challenge. The team quickly identified candidate teleports and antennas available to restore both C-Band and Ku-Band services to the ships which were in the midst of a large-scale, multi-national exercise. As the situation unfolded, the recovery solution involved transferring services, in accordance with a restoration plan, to teleports in Holmdel, NJ, and Paumalu, HI, in addition to adding several new satellites to the CBSP network.
The Holmdel solution was fairly straightforward and simply required repointing of an antenna to the AMC-9 satellite. However, the Paumalu solution would prove to be more complex and challenging. One of the antennas in Paumalu needed for restoration of service had been disassembled in preparation for a scheduled overhaul and upgrade; this antenna had to be reassembled and tested to support the transition. Finally, one other antenna, with a massive 19.2 meter dish, was required to support the transition. This large antenna belonged to a third party, so engineers contacted the company for authorization to repoint it and make other technical modifications that would help restore service.
The teleport engineers mobilized to rebuild and repoint their antennas beginning at 3 am Hawaii time, which required working in the dark. At the same time, the CBSP customer solutions engineering team went to work on developing link budgets and slot matrices for the CSCC to use when the hardware and other aspects of the technical solution were all in place. In the meantime, the project leaders in the CBSP Situation Room were busy planning and coordinating with external parties and the Navy customer to ensure they were all prepared to reconnect to the network when the earth stations and link budgets were ready to support the transition.
Engineers restored service to the first ship within about five hours, and service to the others soon followed. The team provided all restoration services and link budgets to the Navy in less than 15 hours, allowing shipboard technicians to make an orderly transition to the new services. Services were restored to the Navy in substantially less time than the threshold allowed within the bounds of the CBSP contract.
Industry Insider

In-Depth: The Intelsat General Process For The Use Of Commercial Assets
To Host Future Communications Systems
The Global War on Terror, program overruns, and increasing demand for new capabilities has placed an ever increasing strain on National Space Assets, from communications satellites to Earth and space observing systems. This strain has also created an opportunity. With the goal of increasing the number and capability of space based payloads at reduced costs compared to dedicated systems the concept of "Hosted Payloads" [1] has recently been attracting the attention of both Government and Industry as an example of how the government can do things differently and focus on capabilities, not systems.
The Hosted Payload concept infers that a commercial satellite is used as a platform on which a secondary payload gains access to space by sharing the costs of the bus, the launch, and the insurance. This paper describes the Hosted Payload vision and strategy, and the specific requirements for access to space. It describes the commercial best practices and technical systems trade offs in size, weight and power (SWaP) for deploying a hosted payload onboard an Intelsat satellite.
IGC People
Rory Welch, Director of Business Development

Rory Welch is the new Director of Business Development for Intelsat General, having joined the company in August after a 23-year career in the U.S. Air Force. Rory, who retired with the rank of colonel, ended his career both as Director, Operations and Interagency Integration, Joint Functional Component Command for Space at the U.S. Strategic Command (STRATCOM), and as Principal Deputy Director, Mission Operations at the National Reconnaissance Office (NRO) in Chantilly, VA.
At Intelsat General, Rory is responsible for designing and executing complex strategy and capture campaigns aimed at diversifying the company's business by securing revenue in non-core mission areas, such as hosted payloads, ground operations, flight operations, and in-orbit satellite servicing.
At STRATCOM, Rory was responsible for assuring national space systems operations, guidance, support, and coordination between that agency and the NRO. He also led a diverse team of professionals providing critical overhead reconnaissance, intelligence, communications, and situational awareness to U.S. and allied policy, military, and intelligence leaders.
His Air Force career included vice command of a space operations wing; command of a space operations squadron; several tours operating a variety of satellite, missile and national space systems; and a combat deployment to Iraq. He has also served in joint plans, programming, budgeting, operational test, strategy, and policy staff positions at the NRO and at the headquarters of the Air Force, the Space Command, and the U.S. Central Command. After growing up in Montpelier, VT, Rory began his military career on an ROTC scholarship in college.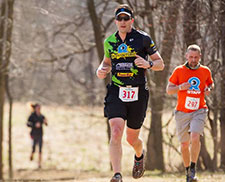 One of Rory's passions is adventure racing, a team sport that combines cycling, running, and paddling with wilderness orienteering skills. Rory is a member of the REV3Mountain Khakis Adventure Racing Team based in Northern Virginia. He and the team recently competed in his longest race, the 26-hour Shenandoah Epic.
Rory lives with his wife Nancy in Manassas. His daughter just began her freshman year at the University of Virginia and his son is a senior at Rory's alma mater, Worcester Polytechnic Institute (WPI) in Worcester, MA.
In addition to a BS in aeronautical engineering from WPI, Rory holds an MS in organizational management from George Washington University, Washington, DC, and a Master's of Airpower Art and Science from Air University at Maxwell Air Force Base, AL.
Where to Find Us
In the coming months, Intelsat General Corp. will be exhibiting and participating in the following conference and events:
Hosted Payload Summit, October 15, Washington, DC. Speaker: Kay Sears, President,
and Myland Pride, Director Government and Legislative Affairs
Joint Base Andrews Air Communications/Technology Expo, October 16, Andrews AF Club, MD
Global Milsatcom 2014, November 4-6, London, UK. Speaker: Skot Butler,
VP Satellite Networks and Space Services
MilCIS 2014, November 11-13, Canberra, Australia
SatCon 2014, November 12-13, New York, NY. Speaker: Kay Sears, President
Colorado Space Roundup, December 10, Colorado Springs, CO
2014 DoD Commercial Satcom Users Conference, December 16-18, Crystal City, VA
Contact Us
301-571-1239
6550 Rock Spring Drive Ste. 450
Bethesda, MD 20817
© Copyright 2014 Intelsat General Corporation