From the Top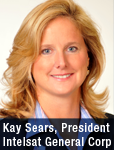 Intelsat EpicNG Satellites Ideally Suited for
Airborne ISR Using Ku Band
A very good article in a recent issue of Defense News made clear that the U.S. military views Africa as "the front lines of the next phase of the terrorist threat." A big part of meeting that threat will be using airborne intelligence, surveillance and reconnaissance (AISR) to monitor the vast continent where militant groups take advantage of porous borders, sparsely inhabited terrain, and spotty terrestrial communications for national armies.
AISR played an important role in U.S. military operations in both Iraq and Afghanistan, with much of the necessary satellite bandwidth coming from commercial providers such as Intelsat General. The new EpicNG satellites from Intelsat will offer the U.S. military even better service. Using tightly focused spot beams and high power, these satellites are designed to deliver data at rates never before seen in the satellite industry.
A thorough analysis conducted jointly by engineers at our company and at L-3 Communications – Communication Systems West found that the EpicNG satellites will significantly outperform existing Ku-band satellites in AISR communications. The study also provides further evidence that the government can avoid the time-consuming and expensive task of installing Ka-band terminals in the nation's fleet of unmanned aircraft because they can achieve their desired data rates and performance well into the future at Ku-band.
The Intelsat EpicNG spacecraft now being built are larger and more powerful than any Ku-band satellites ever put into orbit. Each will have multiple high-power Ku-band spot beams that will overlay Intelsat's existing wide-beam Ku coverage. The first two EpicNG satellites are set for launch in 2015 and 2016. The recent analysis that we performed with L-3 Communication Systems – West illustrates just how well suited they will be for AISR applications.
The data rates of AISR return links (from the aircraft to the ground station) need to be at least 10 Mbps to allow transmission of high-definition, full-motion video – the gold standard for today's AISR missions. This can be limited by the size of the aircraft's antenna, which can range in size from 30cm to 1.2m.
To analyze Intelsat EpicNG performance, the engineers first looked at the MHz required to transmit at 10 Mbps from an AISR terminal on the aircraft. This is a measure of how much satellite transponder capacity is required to support AISR missions. The results showed that an Intelsat EpicNG satellite required between 4.1 and 5.5 MHz of satellite capacity, depending on the size of the antenna. This is about 20% less than existing Ku band satellites and the Wideband Global SATCOM (WGS) Ka-band satellites operated by the U.S. military.
Examining it another way, the engineers calculated the maximum data rate using 4.1 MHz of satellite capacity. Intelsat EpicNG was able to support 10 Mbps from both 76cm and 1.2m antennas, and 4.3 Mbps from a 30cm antenna. This is sharply higher than both legacy Ku-band system and than the advertised rates of new Ka-band constellations such as Inmarsat's Global Express.

As a platform-specific example, the DoD's Predator and Reaper RPAs have the capability of transmitting up to 50 Mbps on an Intelsat EpicNG satellite at beam center. In a single EpicNG User beam, an aggregate of 237 Mbps can be supported from multiple Predator / Reaper terminals.
In addition to the higher throughput, the Intelsat EpicNG satellites offer a number of other advantages over existing Ku-band and Ka-band such as higher protection against intentional as well as unintentional jamming. This is due in part to the satellite's multi-spot, high frequency re-use design as explained here. The EpicNG satellites will be fully integrated into the Intelsat fleet, so that a user can easily transition from a wide-beam Ku signal to an EpicNG narrow beam.
Our analysis indicates that the Ku-band satellite modems on the existing fleet of remotely piloted aircraft used for AISR can be readily upgraded with new software to work smoothly on the EpicNG spacecraft. This backward compatibility allows the DoD to utilize its vast embedded network of Ku-band terminals at high performance levels without the tremendous replacement expense of new Ka-band terminals.
News Update
Intelsat Readies For 'Epic' Foray Into Military SatCom


By Colin Clark – Breakingdefense.Com
WASHINGTON — For more than a decade, the U.S. military has fumbled and groped and stumbled and, gradually, figured out ways to buy a mix of commercial satellite communications and dedicated military satellites so it could communicate and watch video from Predator, Global Hawk, and Reaper drones in theaters where military bandwidth was precious.
For much of the Iraq and Afghan wars, the US could easily buy commercial satellite time or transponders because of a fortuitous glut of satellites covering that region. That glut is fast vanishing. And places like the Pacific — marked by vast distances and relatively little commercial satellite coverage — have posed significant problems. Now the world's largest commercial satellite operator, Intelsat, is buying Boeing-built satellites called Epic that it hopes — combined with changes in space acquisition and the development of secure radio waveforms — will supply the US military with enormous on-call bandwidth.
USAF, Industry Efforts Could Yield Range of Satcom Protection Options
By Mike Gruss – Space News

WASHINGTON — As the U.S. Air Force grapples with a growing mismatch between the military's need for protected satellite communications capacity and its ability to provide it, the service is exploring a range of potentially money-saving alternatives from new transmission waveforms to hosted payload arrangements.
What is becoming clear in the process is that in the context of satellite communications, the term ''protected" can mean different things to different people.
Customer Solution
Knight Sky Uses Intelsat Satellite to Provide Disaster Communications

As Hurricane Arthur, the first named storm of the year, roared toward the Outer Banks of North Carolina on the afternoon of July 3, employees at Knight Sky in Frederick, Maryland, were working with officials from the Federal Emergency Management Agency (FEMA), planning for the worst. Happily, the worst did not happen. The hurricane passed further east, not making landfall "this time." Damage was relatively light, ground-based communications were not destroyed, and Knight Sky's SkyMAX services were not required. Had Arthur left a national disaster in its wake, Knight Sky was prepared to provide emergency satellite communications to FEMA or the North Carolina National Guard's command vehicles, which would have been deployed to the Outer Banks.
Such is the nature of Knight Sky's business, according to President George Knizewski. The company provides a majority of the emergency communications required by FEMA and Emergency Management Agencies throughout the United States, using Intelsat's Horizons 1 satellite and the company's SkyMAX Emergency Communications Network, managed from its secure Network Operations Center (NOC) located in Frederick. The satellite connection provides FEMA and others with on-site secure communications when a disaster takes out terrestrial communications infrastructure, mobile cell towers and other ground-based services.
For incidents such as hurricanes that provide some advanced warning, Knizewski said the company might have a few days to plan a response. However, other man-made or natural disasters such as the tornados this spring in Alabama and Mississippi and the disastrous mudslide in Oso, Washington, that wiped out an entire town, do not provide any advance warning. Yet Knight Sky needs to respond within hours and may be providing connectivity for several weeks.
"It's impossible to meet all the security requirements and regulations of interconnecting to the government's communications network if you start when the disaster strikes," said Knizewski. "All the work needs to be done in advance and all the equipment needs to be configured and tested prior to the disaster. You can't start when the phone rings or you'll never get the job done."
Knight Sky's contract with FEMA requires that satellite connectivity be provided within four hours of a request, but Knizewski said the company often has the connection up within minutes of notification.
"We already have our SkyMAX infrastructure and procedures in place and have coordinated with the customer, so we are always in a state of readiness, 24/7/365," he said.
Knight Sky supports hundreds of emergency response vehicles scattered around the country that can deploy on a moment's notice in the event of an incident. Once a decision is made to deploy a particular vehicle, Knight Sky receives the official government notification and establishes the satellite connection.
At Intelsat General, Kevin Debruycker, the lead Customer Support Engineer, coordinates the connection between Knight Sky and the Horizons 1 satellite or any other spacecraft that might be better suited to the mission.
"It is very much a hurry-up and wait process," said Debruycker. "Fortunately for us, the Knight-sky team has a very good relationship with their customers and understands the challenges of not only finding additional capacity but also the technical coordination required to ensure the customer is able to use the capacity when needed."
Depending on the size of the mobile ground terminal, Knight Sky and Intelsat General can provide between 1 and 155 Mbps of broadband connectivity for voice, video and data that meets the performance, reliability and information assurance requirements of GSA and the security requirements of the Federal Information Security Management Act (FISMA).
In addition to FEMA, Knight Sky provides emergency communication services to U.S. Army North, based in Ft. Sam Houston, Texas, which is responsible for assisting in national disasters. Knight Sky also provides similar connections to about a dozen state Emergency Management Agencies and National Guard Units.
Knizewski said meeting the security requirements when interconnecting with a government network is a particular challenge of his business. FEMA and Army North have their own distinct technologies and procedures, and each individual state has its own particular methods and regulations of establishing and maintaining secure emergency response communications.
"The National Weather Service is predicting a slow hurricane season, but of course there is no guarantee of that, so we are ready," he said. "Summers have become the busy season for us. We are extremely proud to support federal, state and local agencies with emergency communication when disaster strikes right here at home."
Industry Insider

Space Resilience, Deterrence, Fast Ships and Harm's Way
By Douglas Loverro, U.S. Deputy Assistant Secretary of Defense for Space Policy
In 1778, Capt. John Paul Jones was in an anxious search for a frigate that would lead the fledgling U.S. navy in bringing the Revolutionary War back to British shores. In a letter to his French benefactors, he clearly set out his requirements for such a vessel: "I wish to have no Connection with any Ship that does not Sail fast, for I intend to go in harm's way."
In John Paul Jones' day, you survived at sea first by moving quickly to avoid being hit, and second by being able to rain fire upon the opposing vessel. Jones knew this, which is why he preferred a fast frigate with 30 to 40 guns over a "first rate ship of the line" with many more. In essence, Jones' requirements were a micro-encapsulation of deterrence theory: Deny benefit to the adversary (move fast to avoid being hit) and impose cost (hit him hard in return). It is a universal axiom as relevant to 21st century naval, land and air planners as it was to their 18th century counterparts.
IGC People

Victoria Davis, Senior Solutions Development Advisor
Victoria Davis is a Senior Solutions Development Advisor at Intelsat General, providing technical and analytical support for contract proposals and business development. She joined the company in September 2013, after taking two years off from her career to earn an MBA at Harvard Business School.
Ever since she was in high school in Columbus, OH, Victoria knew she wanted to be in the space industry. But she initially thought she would become an astronomer.
"I wanted to build the next Hubble telescope," she recalls of the inspiration she felt after taking an astronomy class as a high school senior. "But after my first summer in college, I worked in an astrophysics lab doing astronomy work and I realized it was a somewhat narrow field. I wanted to do work that impacted more people."
So resuming her studies at Massachusetts Institute of Technology, she focused more broadly on aerospace engineering. After graduating from MIT, she took a job at Orbital Sciences Corp., where over seven years she rose to become Lead Systems Engineer of a technology demonstration microsatellite program. Along the way, she found time to earn a MS Degree in Systems Engineering from George Washington University.
Knowing that she wanted to someday move into larger management roles, she left Orbital in 2011 to work on her MBA, moving to Boston while her husband stayed behind in the Washington, DC, area.
She did take one brief detour out of the space business: during the summer between her two years at Harvard, she did an internship in the sales and operations department of Audi of America.
"I had toyed with the idea of working in the auto industry, but by the end of the summer, I decided space is what I really wanted to do," she said.
After earning her degree, her former colleagues at Orbital suggested that she look at Intelsat General. Her job at the company involves working on engineering studies, market and strategic analyses, and product development. She also assisted in the development of the company's 2014 strategic plan.
Victoria lives with her husband and one-year-old daughter in Reston. In her leisure time, she enjoys playing tennis. One activity she misses is singing in community choral groups. She had a scholarship for music study at MIT, but has not found much time for music amid the demands of her career and her family.
"There will be time to do that again someday," she said.
Where to Find Us
In the coming months, Intelsat General Corp. will be exhibiting and participating in the following conference and events:
CSI 2014 Summer Germany Series, July 28-29, Stuttgart, Germany.
CSI 2014 Summer Germany Series, July 31 – August 1, Wiesbaden, Germany.
AIAA Space Conference & Exhibition, August 4-7, San Diego, CA. IGC speaker,
Bryan Benedict, Product Line Manager
AFCEA Army Intelligence Industry Day, September 3-4, Chantilly, VA
World Satellite Business Week and Symposium on Earth Observation, September
7-12, Paris, France.
AMOS, September 9-13, Maui, Hawaii.
TechNet Augusta 2014, September 9-11, Augusta, GA
IBC, September 11-16, Amsterdam, The Netherlands
Intelligence & National Security Summit, September 18-19, Washington, DC
Contact Us
301-571-1239
6550 Rock Spring Drive Ste. 450
Bethesda, MD 20817
© Copyright 2014 Intelsat General Corporation