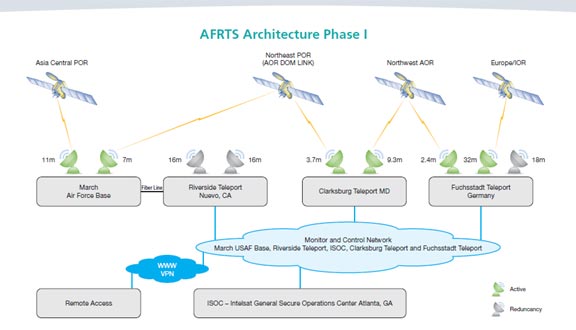 The mission of the American Forces Radio and Television Service (AFRTS) is to provide radio and television information and entertainment programming to Department of Defense (DoD) personnel and their family members. This includes those stationed overseas or serving at sea where English language broadcast service is unavailable or inadequate. Prior to DTS-TV (Direct-to-Sailor TV Service), there was no live connections via radio or television. Sailors would pick up boxes of prerecorded radio and television programs before going to sea.
Utilizing a comprehensive network of satellites and compression technology, the DTS-TV Service provides an important "touch of home" providing news, sports, information and entertainment to approximately 100,000 sailors and marines aboard 140 U.S. Navy ships at sea around the world.
Shore-based troops typically receive the full-service (10 television and 12 radio stations) AFRTS Direct-To-Home (AFRTS-DTH) program package but there are a number of locations in the world that are not served by AFRTSDTH. In these areas the troops and families rely exclusively on DTS for their connection to the U.S.
Although DTS provides fewer channels, it gets current U.S. programming to troops and families who would otherwise only be able to see and hear radio and television from the host country or from the regional satellite service, often in non-English format. DTS also provides a critical service to the overseas AFRTS manned stations. These stations use AFRTS-DTH as their primary satellite downlink, but rely on DTS as the back-up service in case the AFRTS-DTH service is interrupted. Since these services are on different satellites and DTS is visible to all the stations, this back-up service sustains their link to the U.S. even during AFRTS-DTH outages.
The Challenge
AFRTS was providing the DTS service via a complex solution that involved six different contracts between the space segment and ground segment providers. AFRTS-DTS was seeking an integrated solution that allowed for all necessary space and ground assets to be managed under one provider.
Technical Requirements
Services provided via AFRTS DTS-TV consist of three video channels with associated monophonic audio, two monaural music channels with rotating blocks of U.S. produced satellite programming in various musical formats, a full-time radio channel dedicated to news, information and sports service and one 128-kbps data channel for transmitting DoD and Navy print products. The programming is up-linked from the Defense Media Center at March Air Force Base in Riverside, CA, to a series of satellites and delivered worldwide via a secure transmission path using MPEG-2 digital compression technology. Satellite capacity covers the Atlantic Ocean Region (AOR), Pacific Ocean Region (POR) and Indian Ocean Region (IOR), with each satellite utilizing a dedicated C-band downlink.
The Intelsat General Solution
Having built a solid reputation for delivering highly-secure, fully-integrated communications solutions, Intelsat General was able to step up to the requirements of AFRTS and deliver a comprehensive solution that meets the broad coverage area and encryption specifications. With the world's largest satellite fleet, eight teleports in key locations around the world and a robust terrestrial fiber infrastructure, Intelsat General provides critical satellite capacity and video/audio connectivity and uplink services to the AFRTS DTS service. Capacity for AFRTS was secured on three Intelsat satellites along with a New Skies Satellite acting as a relay from the AOR to IOR. Associated Intelsat teleports utilized in the network include Riverside,CA, Clarksburg, MD and Fuchsstadt in Germany. An 11.1-meter antenna was installed at March AFB to transmit broadcasts to the AOR and POR. In addition, a fiber connection was established between March AFB and the Riverside teleport to provide critical back-up redundancy, as well as connectivity to Intelsat's GXS network if needed.
Dedicated hardware was installed in the Intelsat General Secure Operations Center in Atlanta, GA, where vetted personnel monitor network operations and capacity at each teleport on a 24×7 schedule. An experienced engineering staff, dedicated customer support, as well as the convenience and security of a one-contract solution provide a comfort level to the AFRTS that their programming will reach the intended audience. The knowledge and experience that Intelsat General brought to the contract made the transition of the entire network within a 21-day period possible.